During this time of self-isolation, Gedi Sibony has been revisiting the work of individuals whose mastery of movement has inspired him. He took a moment to put together a video playlist compiling work by a range of subjects. He writes:

"One of the most enjoyable states for me is moving. Difficult tasks feel good. We can train our body to move in some specific and deliberate way and soon we're doing it without thinking. Right now we've forced ourselves away from arenas: designated spaces where the presence and participation of others creates the energy and carries the momentum—the arena is a space charged by the attention of others."
Visit the Media page to access this selection in full.
This web project elaborates on a recent cover interview titled Reverence Points: The Art and Mind of Gedi Sibony, which appeared in the March 2020 issue of Border Crossings. Read the full article at the link here.
___
Studio, Gedi Sibony, November 2019. Photo: Gedi Sibony.
Gedi Sibony
The Serpentine Force, 2006–2018
Painted wood, nails
88 x 30 x 9 inches
Gedi Sibony
Set Into Motion, 2010
Wood, screws, paint
106 x 176 x 36.5 inches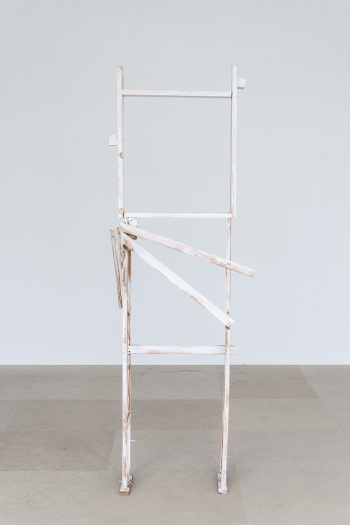 Gedi Sibony
The Give, 2018
Painted wood, nails
71 x 24 x 20 inches
Gedi Sibony
Of Names and the Formulated, 1999/2014
MDF, paint, metal
71 x 33 x 30 inches
Gedi Sibony
The Second Innermost Adornment, 2012
Drop cloth, wood
110.25 x 59.125 x 39.375 inches
Gedi Sibony
The King and the Corpse, 2018
Porcelain enameled steel panels, steel, bolts, screws, wood, c-clamps
Dimensions variable