Now Representing DAVID DIAO
Greene Naftali is pleased to announce its representation of DAVID DIAO, whose debut solo exhibition at the gallery will open in November 2023.

Over five decades, David Diao's paintings have dismantled the tenets of modernism from within, exploring the shadow side of its reductive geometries as a source of untapped potential. "Since 1985, if not earlier, I have sought to question that abstract painting has no referent other than itself," he has said. "Almost all my work has a backstory." Those narratives stem from a rigorous, conceptual approach that resists Conceptual art's veneer of detached neutrality, relying instead on deeply personal investments in art history and his own place within it.

Diao studied philosophy at Kenyon College before arriving in New York, where he worked a series of odd jobs at galleries and museums to support his studio practice. As an art handler at the Guggenheim, he met Barnett Newman while installing the older artist's Stations of the Cross in 1966, a signal event Diao credits with setting his course as an abstract painter. Early works were formalist investigations into the means and the process of painting, and garnered critical attention in solo exhibitions at Paula Cooper in 1969 and 1970. Squeegees, sponges, and discarded cardboard tubes were used to drag and spread paint with no trace of the hand, letting it catch on the stretcher bars beneath the canvas to reveal its underlying structure. Diao cycled through various post-painterly and hard-edge techniques before taking an extended hiatus at the beginning of the '80s, no longer fulfilled by a purely optical, Greenbergian tack but unsure of what came next.
The turning point came with the painting On Our Land (1984), which pairs the inverted triangle of a Kazimir Malevich drawing with a similar shape in the Palestinian flag, picked up at a march on the streets of New York. Here the utopian ideals present at the birth of modernism run headlong into contemporary conflict, in which geometries are never innocent but instead used to signify all manner of political aspirations. Diao's paintings in this vein evoke and rework canonic motifs in the history of abstraction, from Suprematist shapes to Newman zips and de Stijl icons of industrial design. That interest in past masters soon led to a broader reckoning with the levers of power that govern the art world. As long-serving faculty at the Whitney Independent Study Program, Diao was versed in then-current debates on appropriation and institutional critique, and his work of the '90s began to parse how value is consigned—"using data gathered from my own middling career," as he put it with typical self-deprecating wit. Paintings tallied his sales and auction records or listed the addresses of his studios, charting the ups and downs of his reception and market performance with disarming candor. These increasingly autobiographical works also admitted new formal elements that abstraction would have banned, as vinyl lettering, documents, and silkscreened images entered the pictorial field. Throughout, Diao's experience as an artist of color is palpable just outside the frame: paintings of fictional invitations to retrospectives he wasn't offered point up major museums' systemic exclusions, while other works of this period broach how those institutions tend to fetishize the non-white artists they would otherwise overlook.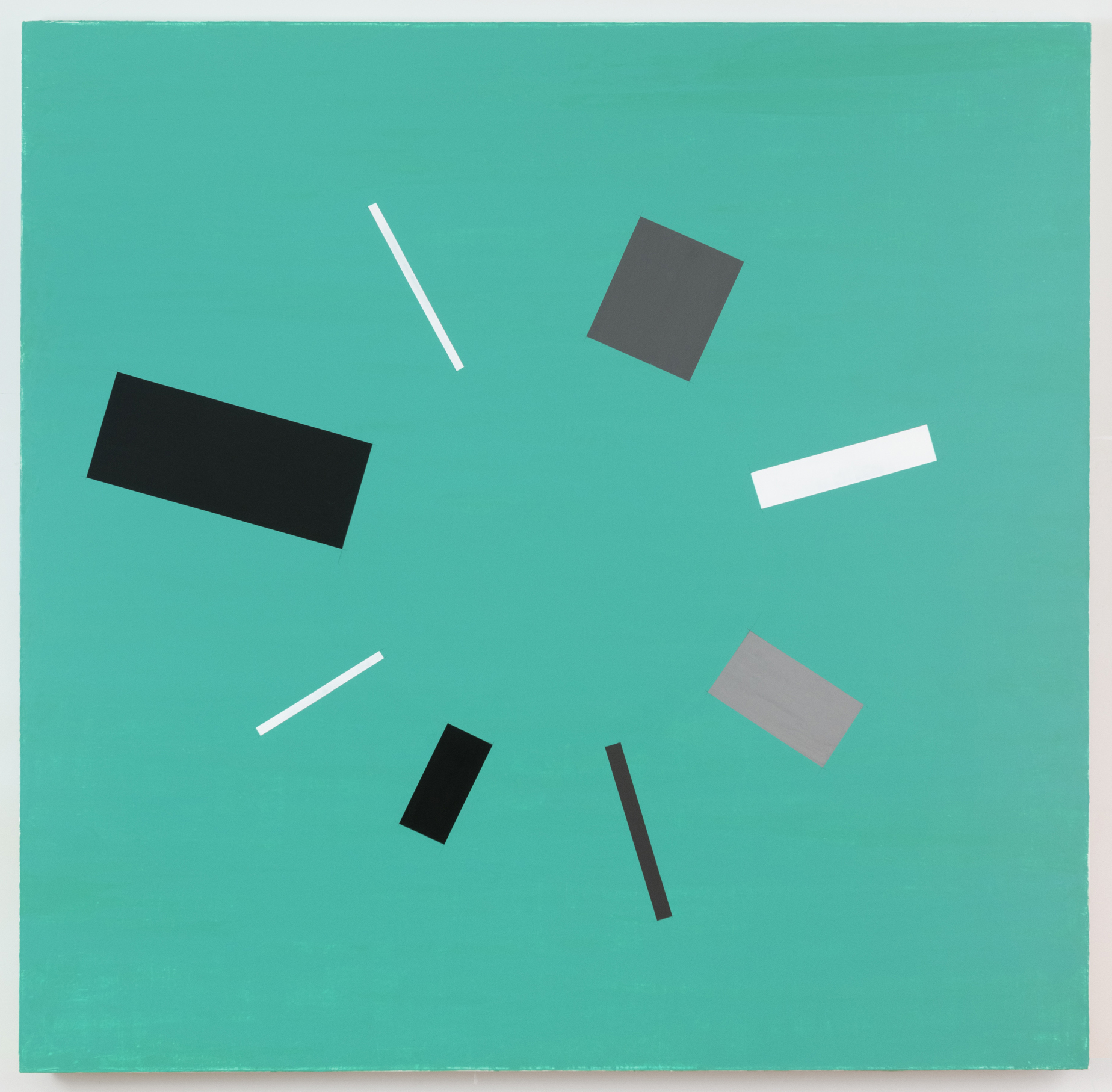 Born in China's Sichuan province in 1943, Diao fled the communist takeover of his family home for Hong Kong in 1949 before immigrating to the United States in 1955. Recent works have mined this cultural heritage and explored themes of dislocation and loss. In I Lived There Until I Was Six (2008), a cycle of paintings diagram his now-demolished childhood home in the city of Chengdu; other series draw on memories of early years spent in near-exile in Hong Kong.

Across Diao's sprawling, allusive body of work, painting remains the guiding constant—a set of procedures to scrutinize or even to ridicule but never to be abandoned. Understated and spare, his non-gestural works still deliver surprisingly sensual pleasures, their honed surfaces layered on with a palette knife and burnished to an even glow. His silken application and elegantly brazen way with color keep abstraction vital, despite his doubts: as fellow painter Thomas Lawson wrote on the eve of Diao's long-awaited retrospective in 2015, "David Diao's working life as a painter is a model for us all: a serious and tumultuous fifty-year engagement with the unreliabilities of art."