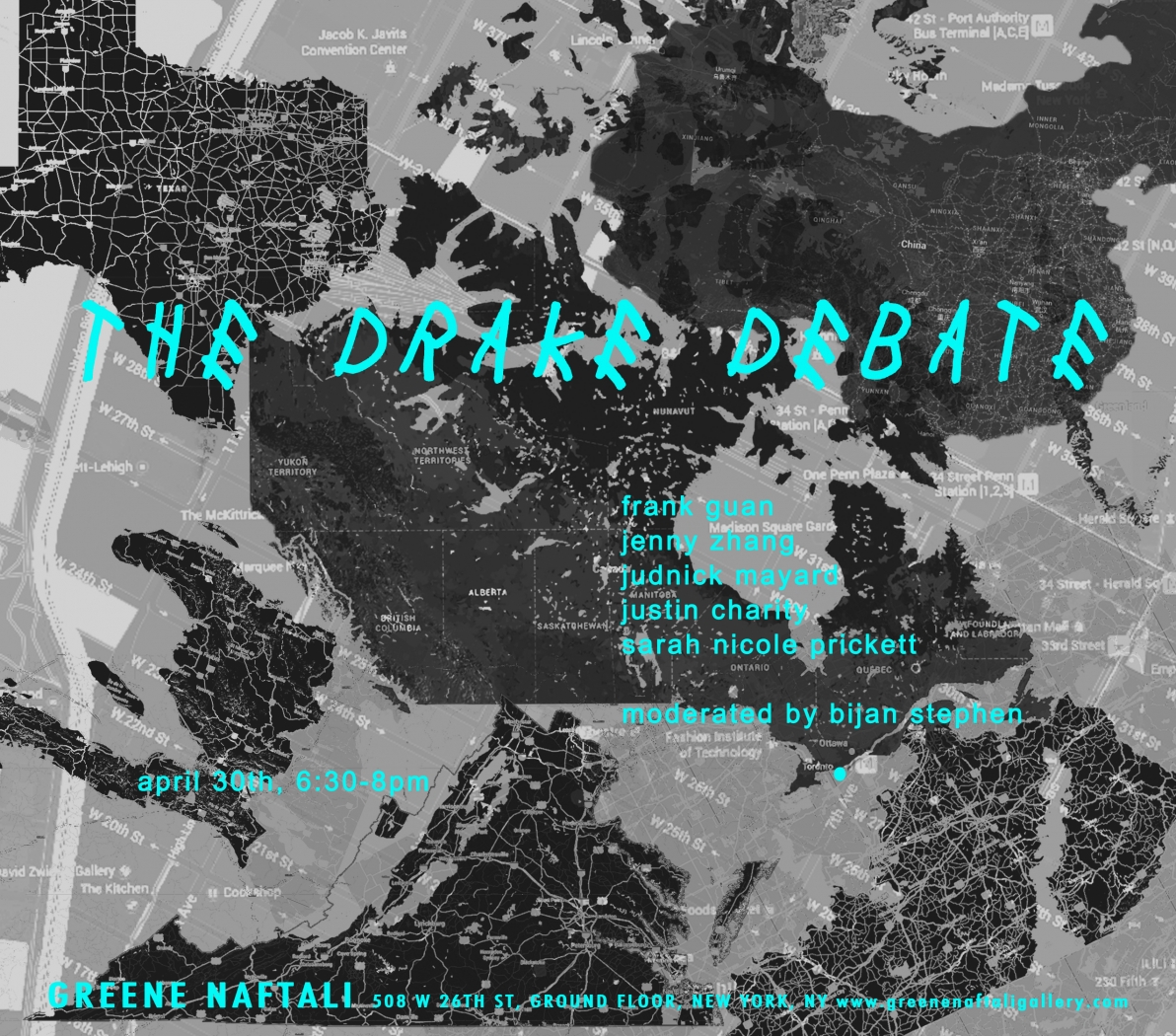 The Drake Debate
Greene Naftali - Ground Floor
Saturday, April 30, 2016 6:30-8PM
Over the past ten years, Drake has successfully transformed himself into one of America's leading cultural icons, a superstar recording artist capable of commanding boundless loyalty from millions of followers. His fame is such that everyone will hear him sometime no matter where they are, but for Drake's fans, he is always there for them, personally speaking. To speak of Drake is to speak of oneself, and the mystery of Drake is the mystery of one's own identity—how we relate to ourselves, or fail to. He seems as transparent and complicated as our own selves; as with our own selves, we want to know more, and there's no guarantee we'll like what we discover.
If there's no way to learn more about Drake without examining one's own identity, then, given the instability of one's own identity, it's best to figure him out in groups. By bringing together a variety of critics, artists, nationalities, lovers, and haters, the Drake Debate aims, for better or worse, to expand our sense not only of who Drake is, but the world he inhabits and the people he represents. (And, since the debate takes place on the day after the scheduled release of Drake's latest collection Views from the 6, it's also an ideal opportunity to exchange first impressions.)
Admission is free and questions are welcome. Come through and help us figure things out.
BIJAN STEPHEN is a journalist and associate editor at the New Republic as well as the moderator of the Drake Debate.
JENNY ZHANG is a poet and fiction writer whose short story collection Sour Heart will be published by Random House in 2017.
Like Drake, SARAH NICOLE PRICKETT hails from Ontario, Canada. Her journalism has appeared in the New York Times and Bookforum and she is the founder of Adult magazine.
JUDNICK MAYARD is an events coordinator, legendary Kanye panelist of 2015, and culture writer most recently associated with the Fader.
FRANK GUAN is a literary critic based primarily at n+1.
JUSTIN CHARITY, formerly of Complex, is now a culture writer for The Ringer specializing in rap and hopefully anime.